Bengaluru News Live Update: The state Congress will be holding silent protests today at 300 locations across Karnataka to "raise awareness about rampant corruption in the BJP government". Addressing a news conference, Congress legislator N A Haris said that the protests will be held in front of 51 Metro stations and at 26 flyovers and 200 traffic signals in the city. "We will not disturb the movement of traffic. Congress workers will hold placards and protest against the state government," he said. The protests will be first held in Bengaluru before party workers stage similar agitations across the state. Karnataka Pradesh Congress Committee (KPCC) president D K Shivakumar, Congress Legislature Party leader Siddaramaiah and All India Congress Committee (AICC) general secretary Randeep Singh Surjewala will participate in the protest at Trinity Circle.
In other news, the Advocates' Association of Bengaluru Saturday staged a protest at the National Law School of India University (NLSIU) in the city over the alleged non-implementation of the domicile reservation policy at the institute. The association and other pro-Kannada outfits said the institution was acting against the interests of Karnataka students by not implementing the 25 per cent domicile reservation. The association in a letter addressed to Chief Justice of India DY Chandrachud, who is also the chairman of the executive council of the NLSIU, sought the latter's intervention in the implementation of the reservation policy as is followed in other National Law Schools across the country.
Meanwhile, intensifying its campaign in poll-bound Karnataka which will see assembly election in a few months, the ruling BJP launched its nine-day Vijaya Sankalpa Yatra yesterday, according to news agency PTI. The BJP kick-started its aggressive poll campaign from two important Lingayat Maths – Jnana Yogashrama in north Karnataka and Siddaganga Math in Tumakuru in south Karnataka, apparently to woo the state's dominant Lingayat community, which Chief Minister Basavaraj Bommai and his predecessor B S Yediyurappa belong to.
Bengaluru News Live Updates: Ready to contest next assembly polls, says elusive PSI 'kingpin' RD Patil; Follow for all Live updates from Bengaluru, Karnataka
The Bengaluru Meteorological department predicted that the city will experience a partly cloudy sky today.
Shallow to moderate fog/mist is very likely in some areas. Maximum and minimum temperatures very likely to be around 28 and 16 Degree Celsius respectively
The Karnataka police on Monday arrested a 26-year-old man from Uttar Pradesh for asking his Pakistani girlfriend to come over to Bengaluru so that they could get married. The man has been identified as Mulayam Singh Yadav, Mulayam met the girl, who is a minor, through the gaming app LUDO. They fell in love and he asked her to come over to India through Nepal in September 2022. He works as a security guard in a private company in HSR Layout.


They lived in the Labour quarters in Bellandur PS limits. The girl has been handed over to FRRO and a case has been filed against Mulayam.
In view of repair work on Hosur Main Road (NH) service road Konappana Agrahara to the 100-meter-long service road up to BMTC 19th depot, the Bengaluru Traffic advisory has issued road diversion details.
Vehicles from Nice road to Hosur road will be diverted to Hosur main road, 50 meters ahead of Konappa Agrahara junction.
From Electronic city second phase (Shantipur, G S Palya) towards the service road: P E S vehicles plying towards college and Nice Road should take a 'U' Turn and travel via Veerasandra Junction and proceed via Konappa Agrahara Junction.
Good morning, Welcome to today's blog. We bring to you all the news updates from Bengaluru, Karnataka.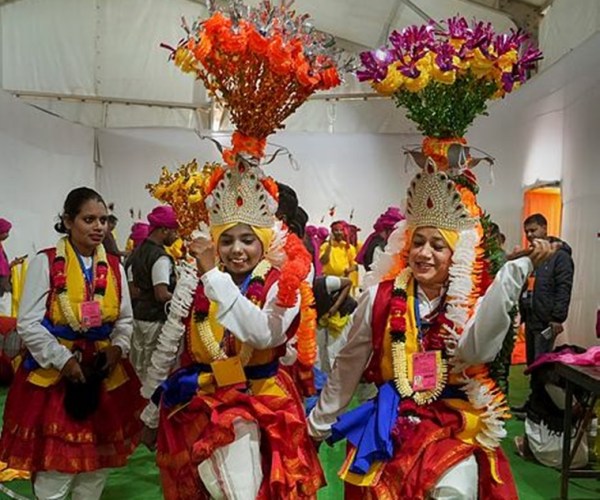 Karnataka tableau artists rehearsing, ahead of the Republic Day Parade 2023, in New Delhi, Sunday, Jan. 22, 2023. (PTI)
In other news, days after a woman and her son were crushed to death after a Metro pillar under construction collapsed on them, Bangalore Metro Rail Corporation Ltd (BMRCL) managing director Anjum Parvez has been summoned for questioning. According to police sources, Parvez was called for questioning on Friday but he cited health issues and responded that he would not be able to appear. Parvez will be summoned again and he has stated that he would appear for questioning once his health condition improves.
The Madras Engineer Group (MEG), popularly known as the Madras Sappers, is a group of the Corps of Engineers in the Indian Army. Its headquarters – located at Halasuru in Bengaluru – have been chosen as the venue for the Army Day parade this year. After India's Independence, the Army Day parade will take place outside the national capital for the first time.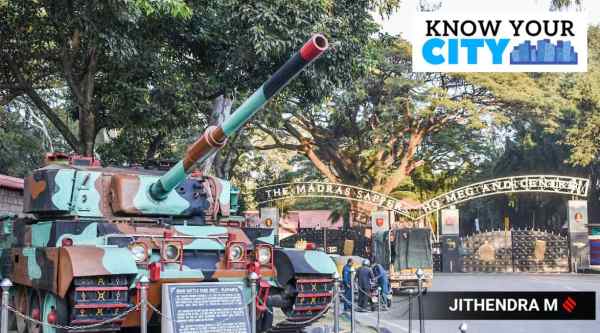 The Madras Sappers/ HQ MEG and Center (Express Photo by Jithendra M)
The Madras Sappers draw their origin from the erstwhile Madras Presidency Army of the British Raj and are older than the other two groups of the Corps of Engineers – Bengal Sappers and Bombay Sappers. (Read more)
The Bengaluru Metro Rail Corporation Ltd (BMRCL) has invited the commissioner of metro rail safety to inspect the metro work between KR Puram and Whitefield, which is expected to be thrown open in March, according to BMRCL MD Anjum Parvez.
The inspection work will include checking of tracks, station safety, signalling, electrical establishment on the stretch. "We have submitted all the required documents related to the metro work on this stretch to the metro rail safety commission. The commissioner is expected to start the inspection work on February 16 and submit the report in four to five days. After that we will begin our trial runs. We are expecting the stretch to be ready for operations from March this year," said Parvez.
While the KR Puram-Whitefield stretch is part of the phase 1 metro work of the Baiyappanahalli-Whitefield stretch, the phase 2 metro work between KR Puram and Baiyappanahalli will start only by June. "Under phase 2 we still have a major challenge to address, which is the railway crossing line near the Baiyappanahalli depot. Once the work is completed, we can expect the operations to start in June. Until then, we will be arranging BMTC feeder buses from KR Puram to Baiyappanahalli, for passengers who want to travel beyond KR Puram from Whitefield," said Parvez.
source